PAST PUPIL NEWS & LETTERS!

___________________
NEW READS!!


Remember also to click through at the bottom of the page to see titles from many of our past pupil authors. HAPPY READING! The Penvro Team
Royal Navy Day by Day, 4th Edition
Author: Lt. Cdr. Lawrie Phillips
ISBN 978 0 7524 6177 9
Former pupil Lawrence Phillips served for 35 years with the M.o.D at home and abroad, specialising in Public Relations and Information, becoming one of our leading naval historians. He has produced this splendid reference book, covering our maritime history over the past 500 years. Small wonder that it runs to 864 pages!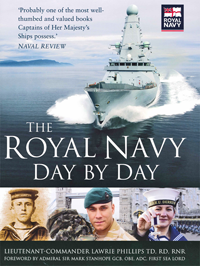 This book has become a standard reference, held on every Royal Navy ship and shore establishment and the bookshelves of those with an interest in our country's history. It is set out in diary format, with 2 pages per day, but do not be misled into thinking that it is simply a record of launchings battles and sinkings – it isn't. It covers all aspects of naval life and influences – even down to instructions to sailors "entertaining ladies on board overnight."

Since our maritime history is one of the main controlling factors in our nation's history as a whole, this book is of interest not just to naval historians but to historians in general or anyone who enjoys browsing about ships and the sea.

A piece of local flavour is included on the front cover. The sepia photo of the sailor that appears here is Mr. Walter Lewis who, having served in both the Royal Navy and the Army, became school caretaker in the Argyle St. building. He was the author's grandfather.

A thoroughly recommended book, lavishly illustrated and dedicated by permission to HM Queen Elizabeth II. The foreword is written by the First Sea Lord of the day. The Navy's professional journal regards it as 'probably one of the most well-thumbed and valued books Captains of Her Majesty's ships possess'.
Reviewed by Roger MacCallum
Pembroke Dockyard and the Old Navy
Author: Lt. Cdr. Lawrie Phillips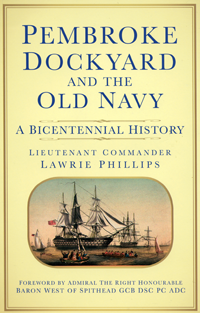 Former pupil Lawrie Phillips has produced another book which is a real gem. Lieutenant Commander Lawrence Phillips spent 35 years with the MOD, becoming Fleet staff officer and subsequently Head of Publicity at the MOD. He is now Vice President of both the Navy Records Society and the Society for Nautical Research.

The book is wonderfully illustrated in both colour and monochrome, with many of the pictures never seen before. Part 1 chronicles the history of Pembroke Dockyard from its establishment at the beginning of the 19th century to its closure in 1926. Part 2, the bulk of the book, deals with over 250 ships built at the yard, giving details of their specifications and construction, and subsequent naval careers, from river gunboats to 'woodenwall' giants, to armoured cruisers that fought at Jutland in WW1. Part 3 deals with the Dockyard workforce, from the Captain Superintendents, to the 'Dockyard Mateys' and contains some fascinating – and humorous - anecdotes.

Many of we former pupils will have had ancestors who worked in the Dockyard, or sailed on the ships that were built there. This book gives a most valuable insight into the history of the Dockyard, the ships and the workforce, comprehensively filling a gap in our knowledge. As Lawrie Phillips rightly points out, that although we learned about Pembroke Castle, Cromwell, and Henry VIIth at school, the history of the Dockyard and its ships was largely ignored. With a Foreword by Baron West of Spithead, this book is highly recommended.
Reviewed by Roger MacCallum
ISBN-10 0750952148, ISBN-13 9780750952149 Publisher History Press Limited
Do you have any "hidden treasures" or News to share with The Penvro? We invite you to send it in and will be happy to publish it here. Don't forget to include a current photo!

We are also interested in memories of your time at Pembroke (Dock) Grammar School. We are sure that the Memories page will be one of the most popular features and look forward to your submissions. Visit the page for ideas and details on sending us your school days stories.


_______________________________________

The Ships of Pembroke Dockyard
Author: Phil Carradice

That prolific author and 'old boy' of the school, Phil Carradice, has, with this book, filled a yawning gap in our knowledge of the history of Pembroke Dock – the town built to build ships as he once called it. Lists of the ships built and their specifications have been published before – notably by another 'old boy' of our school, David James - in his "Down the Slipway" but never has there been a book which concentrates on what happened to those ships after they slid into the waters of the Haven. That is what this book is about. So it is not a catalogue of ships with technical details, but takes us through the subsequent history of many of those ships which our ancestors helped to build. What a fascinating story this makes and told by Phil in an eminently readable way. We have all seen the names of the first 2 ships launched engraved on the 'Centenary Lamp' in Albion Square – the Valorous and Ariadne, but now we learn that the Ariadne was at one time commanded by Captain Marryat and his second novel was written in the Captains Cabin aboard her. We also learn for instance, that another early ship HMS Thetis was wrecked off the coast of Brazil with a huge cargo of gold bullion. Then there are stories of the woodenwall ships built at the yard and about those that served in both the Baltic and the Black Sea in the Crimean War. Many of these went on to become Training Ships with harsh regimes for boy sailors, or to serve as Port Guardships, hospitals and even churches. We are then told about the transition to Ironclads and for instance how HMS Iron Duke, launched at Pembroke Dockyard in 1870 rammed and sank her sister ship Vanguard in the Irish Sea, where she lies on the seabed to this day. If any naughty boys who were caned by RG Mathias or TC Roberts read this book, they will realise that they got off lightly when they get to the section on shipboard punishment!The 19th century was a time of great exploration and we read tales of Pembroke Dock ships such as the Erebus, Pandora, Success and Starling, which were closely involved in adventures and tragedies from the Arctic to Australia and Canada to Hong Kong – with the names of ships immortalised in places named after them. Inevitably, many Pembroke Dock ships, now of modern steel construction, served in WW1 and we learn that some, such as HMS Warrior, were sunk, some such as HMS Cornwall served with distinction. Some Pembroke Dock ships went on to serve in WW2 and we discover that the last surface warship built in the yard, HMS Curacoa, which had been used in the shooting of a movie between the wars, was rammed and sunk by the RMS Queen Mary in 1942. There are many fascinating stories in this book – a thoroughly good read.

Reviewed by Roger MacCallum

The History of Pembroke Dock




Author: Elizabeth G. Stuart Peters




In 1904, Mrs Stuart Peters won the Pembroke Dock Eisteddfod essay competition with an extended essay on The History of Pembroke Dock. Such was the quality of this piece of work, that she was persuaded to publish it – the book being published in 1905. A few lucky souls have copies of the original, but they are few, and when the original does come up for sale it is quite expensive. The Bicentenary Committee decided it would be fitting for the book to be reprinted to coincide with the bicentenary of the Town next year and a reprint of the original has just been published.

The book has a wealth of fascinating information about the development of the town and dockyard from its earliest days. So you can read about which streets were built when with interesting asides such as why Bush Street used to be called 'Pigs Parade!' In the chapter on the growth of education you can learn aboutthe primary schools many of us attended, and how the precursor of our school started its life in the old Victoria Hotel at the top of Pembroke Street. For anyone who has their roots in Pembroke Dock, for family historians, local historians, naval or military historians this book is a wonderful reference. Thoroughly recommended.

It is available locally from the Committee. Contact them by email to arrange an order. bicentenary@thedock.org

Digital Building Heritage Project-Royal Dockyard- Pembroke Dock c/o. Dureau, Shimogamo, Beach Road, Llanreath Pembroke Dock SA72 6TP

CLICK HERE for their website.

Reviewed by Roger MacCallum
© 2009-2013 ThePenvro.com - General Copyright Notice: Unless indicated to the contrary, all materials on this site including design, text, graphics, photographs and images are the copyright of ThePenvro.com and are not available for commercial use. All other images and/or photographs appearing on this site are the property of their respective owners, as indicated.
Where copyright for photographs on this site is known, it is indicated.  There are other examples where attempts to locate the copyright holders have failed. Wherever the original photographer or company is known they are attributed.  However, in some cases, there is no indication of who took the original photo or where the copyright, if any, may reside. If anyone viewing the site can provide such information, the wishes of the copyright holder will be respected. Please contact:info@thepenvro.com