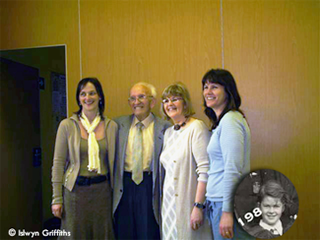 Mair (Islwyn's daughter); Islwyn Griffiths; ex-pupil Joyce Calver and her daughter, who organised the reception to mark the 50th anniversary of the scheme 12 May 2007
On a visit to Pembroke Dock in 2006 he met with Ann Cole (Parcell) and Joyce Griffiths (Calver) who shared their experiences and memories of that time which had made such an impact on their lives.

Islwyn not only collected the photographs but also, as its secretary, all the details of the operation of the scheme during its five years of existence. He went through the correspondence etc. and rediscovered it all. After fifty years Islwyn saw it in a new and different light. He began to understand where its strength lay, why it had lasted five years, and why it had influenced Ann Cole and Joyce Griffiths. It thrilled Islwyn to realise what they had accomplished and to see that this little slice of a story, which was fifty years old, was, in reality, a great story of a small town's reaction to a major European tragedy, and it deserved to be remembered.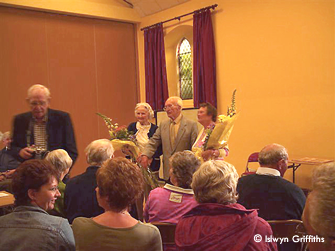 Presentation of bouquets to the two surviving host-mothers
Mrs Evans, Mrs Maureen Colgan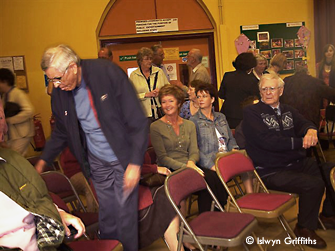 Some of the host parents' families.In foreground is Billy Harries, brother of Pat. In the background, standing, Susan Parcell. Behind her, Bobby Parcell talks to Dennis Lloyd, while on the right Julian Jones (Science teacher) is talking to Dennis Lloyd's wife Vicky (nee Fogwill.)
Click for the transcript of Islwyn Griffiths' speech marking the occasion

( DVD copies of the speech can be obtained through this website.
Please click on the Contact bar to email for details.)

Adobe Acrobat Reader Required-download information

Click Here

Islwyn addressing the audience at the St.John's Community Hall on 12 May 2007

The host parents and Islwyn:

Mrs Evans (mother of Elfryn, Jane etc); Timmy Hay (father of Jacqueline & David, Councillor & owner of the Nutshell shop and press);Islwyn's grand-daughter, Alaw( left) presenting the bouquet.
© 2009-2011 ThePenvro.com - General Copyright Notice: Unless indicated to the contrary, all materials on this site including design, text, graphics, photographs and images are the copyright of ThePenvro.com and are not available for commercial use. All other images and/or photographs appearing on this site are the property of their respective owners, as indicated.
Where copyright for photographs on this site is known, it is indicated.  There are other examples where attempts to locate the copyright holders have failed. Wherever the original photographer or company is known they are attributed.  However, in some cases, there is no indication of who took the original photo or where the copyright, if any, may reside. If anyone viewing the site can provide such information, the wishes of the copyright holder will be respected. Please contact:info@thepenvro.com