Remembering Roland Mathias...
As poet, editor and critic, Roland Mathias made a major contribution to the literature of Wales in English, helping to define and develop it for more than 50 years. His work on the origins and growth of Anglo-Welsh literature, from about the late 15th century to the present day, drew its substance and accuracy from his training as a historian, and his literary criticism blazed a trail down which many others have since ventured. It is no exaggeration to say that, with his friend Raymond Garlick, he was the founding father of post-war Anglo-Welsh literary studies, to which his enormous energies were almost exclusively devoted.

Born on a farm above Talybont-on-Usk in the old county of Breconshire, and in a valley which was subsequently flooded to make a reservoir, Roland was educated at British military schools in Germany, where his father was an army chaplain, and at Caterham School and Jesus College, Oxford, where he took a First in Modern History. Both his parents were Welsh, but only his father was Welsh-speaking and the language of his home and education was English. He first became aware of his Welsh identity while reading a boys' adventure novel by Owen Rhoscomyl (Captain Owen Vaughan), but it was many years before he was able to immerse himself in the history and English-language literature of Wales.

After teaching for a while at schools in England, he returned to Wales in 1948 as headmaster of Pembroke Dock Grammar School, a post he held for 10 years. It was there, a year after his appointment, that he took a leading role in founding Dock Leaves, a magazine which, as The Anglo-Welsh Review from 1957 until its demise in 1988, was to have a longer continuous existence than any other English-language magazine in Britain, except for Outposts. Roland Mathias was its editor from 1961 to 1976.

The magazine took as its principal aim the healing of the breach between writers in Welsh and their counterparts whose work was done in English; the literary tag "Anglo-Welsh" was applied to the latter in order to distinguish between the two camps. From 1958 to 1969 Mathias lived in England: he was headmaster of the Herbert Strutt School at Belper in Derbyshire and then of King Edward VI Five Ways School in Birmingham. Nevertheless, he strove to develop The Anglo-Welsh Review as a journal of the arts in Wales by publishing studies of Welsh composers and painters as well as scholarly articles about aspects of Anglo-Welsh literature which had not, until then, received much critical attention. With no specifically political commitment other than that of Welsh patriot, but with a deep sense of mission and insisting that English-speakers had a part to play in the cultural life of Wales, he sought to strengthen the attachment of writers and readers to the national heritage.

"My writing is anti-cosmopolitan in emphasis," he wrote. "I believe it is important to know and cultivate my own piece of ground. Not to love one's own parish and always to believe in a greater significance elsewhere is not only to deny the well-springs of being but often to miss a natural humanity in the search."
Mathias's professional interest as a historian was clearly reflected in the magazine's contents, notably in the many substantial reviews, articles, and editorials which he contributed. His literary criticism had a breadth of outlook, a high seriousness and a concern with issues rather than with personalities, which put it among the best- informed and most authoritative writing about the culture of modern Wales. His most important books were Whitsun Riot (1963), a monograph on Vernon Watkins in the "Writers of Wales" series (1974), a study of the poetry of John Cowper Powys (1979) and an illustrated history of Anglo-Welsh literature (1987).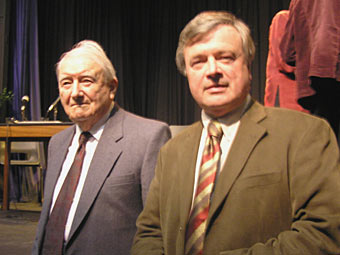 Roland Mathias pictured with his son Glyn Mathias, former TV journalist and member of the panel of judges, at the first awards for the new Roland Mathias literary prize for Welsh writing in English on 23rd March 2005
Click Here for Photo Source- BBC Wales
He also edited (with Sam Adams) an anthology of short stories by Anglo-Welsh writers, The Shining Pyramid (1970), The Collected Short Stories of Geraint Goodwin (1976), David Jones: eight essays on his work as writer and artist (1976) and (with Raymond Garlick) the definitive anthology Anglo-Welsh Poetry 1480-1980 (1984). A selection of his criticism was published under the title A Ride Through the Wood in 1985.


The same prodigious energy is to be seen in his creative writing. His earliest poems, published as Days Enduring in 1943, were written at a time when he was suffering the consequences of his pacifist convictions, which he had learned from his mother, and for his resistance to military conscription and refusal to do any kind of war-work: he was twice imprisoned on these accounts. Much of his work draws its strength from the Nonconformist tradition and from his staunch Christian beliefs. Even the famous sense of guilt associated with that tradition did not inhibit him as a writer: "It shows me a particular vision, a measurement. Out of it I can write," he once commented.
Roland published seven more books of poems: Break in Harvest (1946), The Roses of Tretower (1952), The Flooded Valley (1960), Absalom in the Tree (1971) and Snipe's Castle (1979); his selected poems appeared as Burning Brambles in 1983; and his Collected Poems in 2002. Very much to do with Wales and its history, and with specific Welsh landscapes, particularly along the border with England, his poetry is sometimes difficult, usually because of its allusions and erudition, but the reader is always compensated by its honesty, vivid language and scrupulous craftsmanship. The same qualities went to the making of his short stories, published as The Eleven Men of Eppynt in 1956 and in The Collected Short Stories of Roland Mathias in 2001.
After his early retirement in 1969, when he settled in Brecon, Mathias threw himself into the literary life of Wales which he had done so much to stimulate. He was a member of the Welsh Arts Council's Literature Committee from 1969 to 1979 and the committee's chairman for three years. He also served as chairman of the English-language section of the Welsh Academy, the national society of writers in Wales, from 1975 to 1978. I knew him in both these capacities, but it was while engaged in compiling The Oxford Companion to the Literature of Wales, between 1978 and 1986, that I was able to take the full measure of his scholarship and jovial personality. He not only wrote several hundred entries for that reference-book, but also served as consultant to the editorial board, saving us from many an error of fact and judgement.
When, in 1985, Mathias suffered a stroke, it seemed as if a line had been drawn under one of the most varied, prolific and influential careers ever enjoyed by a writer in post-war Wales. But in 1992, to the delight of his many friends, he began once again to write, and in 1996 published his last book of poems, A Field at Vallorcines.
Meic Stephens