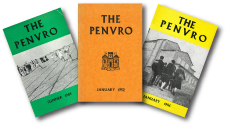 A History of "The Penvro"
The Penvro, Summer 1958
(click here)

From Victoria to Elizabeth II
Our School had been in existence for about two-and-a-half years when I first attended it, at the age of twelve, in the remote fastness of AD, 1897. It was housed in an old hotel, Victoria House, facing Barrack Hill and flanking Pembroke Street, Pembroke Dock. The boys occupied the ground floor of this building, with the Board Room at the front; the girls the first floor, but often boys and girls were taught together. There were so few of us that we were like a big family, with three masters and three mistresses on full time.

I had not been long at this Grand Hotel school, when a loud battle-cry was raised. Why couldn't we have a Magazine like other County Schools in Wales? "Why not?" replied the Heads. "Get busy, everybody; none too old or too young to help with the first number of our very own Magazine." Mr. Dawes, Miss Perman, staff and pupils were all roped in, and a Magazine Committee appointed. Soon our poor brains were in a ferment and our desks Littered with scraps of paper (MSS ?). What form was this miscellany of contributions to take? Everyone had to offer something, essay, poem, report or suggestion. The various teams, football (soccer) and hockey, must provide reports of their activities, with criticisms by the captains on the various players. There were to be form lists with names and subjects in which each scholar had gained a 'first' (80%).

Mr. Dawes and Miss Perman were adepts at rousing our enthusiasm and evoking a fine team spirit. We looked forward eagerly to seeing OUR magazine in print and gladly paid our sixpences for what I still consider excellent value for money. Sixpence was an enormous sum in those days, when one's pocket- money was a halfpenny or a penny a week. Nufsed.

Our infant had not yet been christened PENVRO, It was simply: The County Intermediate School Magazine, Pembroke Dock. A Mr. Churchward drew the design for the Magazine cover. I note that the arms of PATER have the two flags blowing towards the right, an innovation suggested by Mr. Dawes, who asked "Why two winds in opposite directions?" I wonder how many copies of this first number are still in existence? I lost mine, but my great friend Mary Sketch Edwards kept hers and gave it to me about twenty years ago. It is as readable now as ever. The Head Girl, Camilla Thomas, of whom we stood in awe, contributed a learned article on "School Libraries"; there were School Notes, Reports on Football, Hockey and Harriers; Accounts of a School Concert and the Debating Society. An Editorial came first, to introduce our infant to its readers. It contains this quotation Nascitur exiguus, vives eundo acquirit, which makes me guess that Miss Perman was the Editor. She was a London MA. with first class classical honours. She knew how to make even Latin agreeable.

Last year, 1957, our Magazine celebrated its Diamond Jubilee. Please note the connection between Queen Victoria: 1837 - 1897, and Penvro: 1897- 1957—two consecutive Diamond Jubilees, covering a period of one hundred and twenty years!
_______________
The Penvro.com in the 21st Century
The idea of a PDGS/PGS website was first discussed by a group of ex-pupils in the Old Kings Arms Hotel and on Freshwater East beach, the day following the April 2006 Reunion. The discussion continued on-line, at various get-togethers with Islwyn Griffiths in Cardiff, and on August 4th 2006, Dick Roberts-Thomas sent an e-mail to some 25 people, asking for their views about establishing such a site, the format it might take and how it could be set up and funded. Many detailed replies were received and enthusiasm abounded, but the stumbling block was the huge professional cost involved with building and maintaining such a complex site.

Then, in November 2008, completely out of the blue, David Brown and his wife Lauren contacted Cliff James through Friends Reunited about a family website they'd begun to set up and were looking for photos. Lauren then offered to set up a Pembroke Grammar School site in the new year free of any labour charge. Cliff contacted Greg Ralph to ask if they could use his numbered version of the 1956 long photograph on their family site and told him of the offer to set up a PGS site. Cliff and Greg agreed at once and held the fort with Lauren and Roger MacCallum while the full team was assembled to take on responsibility.

In March, five of the team assembled in Bristol to begin the huge task of scanning The Penvro magazines from original issues loaned by generous ex-pupils and Islwyn. They agreed to spread the site's workload as widely as possible, as equal members of The Penvro team, and Lauren agreed to stay on as permanent webmaster. David had already begun numbering and labelling the 1958 and 1953 long photographs, which Roger had scanned, to follow on the huge effort put in by Greg with the 1956 version. Work on the 1960 and later long photos is in hand and there is now a system so that everyone who visits the site can offer to help to identify the missing names. This is where history merges into the present and where technology has the ability to bring even more "Penvrovians" together for future reunions. To that end, The New Penvro Association was duly created at an April meeting in Cardiff. The future development of thepenvro.com website is now up to all of us to shape-- together.
| | | |
| --- | --- | --- |
| | | |
| Dick Roberts-Thomas | Roger MacCallum | |
| | | |
| --- | --- | --- |
| | | |
| Dave & Lauren Brown | David John | Greg Ralph |
| | | | |
| --- | --- | --- | --- |
| | | | |
| Rosalie Lilwall (Minchin) | Mike Knill | | Sandra Briskham (Stevens) |

© 2009-2011 ThePenvro.com - General Copyright Notice: Unless indicated to the contrary, all materials on this site including design, text, graphics, photographs and images are the copyright of ThePenvro.com and are not available for commercial use. All other images and/or photographs appearing on this site are the property of their respective owners, as indicated.
Where copyright for photographs on this site is known, it is indicated.  There are other examples where attempts to locate the copyright holders have failed. Wherever the original photographer or company is known they are attributed.  However, in some cases, there is no indication of who took the original photo or where the copyright, if any, may reside. If anyone viewing the site can provide such information, the wishes of the copyright holder will be respected. Please contact:info@thepenvro.com